[Big Disclaimer: I am in no way, shape, or form telling you that this is what you should do for your baby. This was a decision I made for my baby after many hours of research. Please make sure you do your own research before determining what is right for you and your baby]
I wrote in this post about my breastfeeding struggles and because of it I had to find an alternative way to feed my baby. Not only did I have to find the safest bottles, but also the safest formula.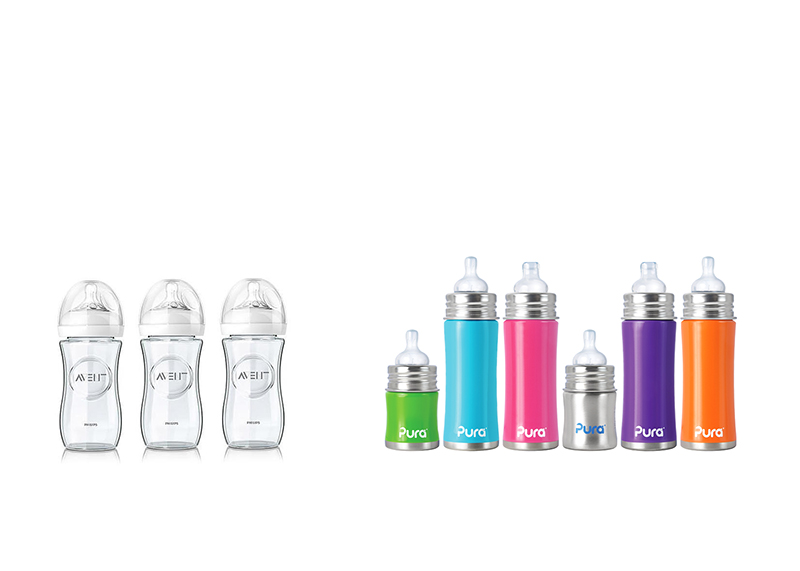 When it came to bottles, I knew that we would be warming up formula, so plastic bottles weren't an option. We decided on the Avent Natural glass bottle, and as he grew older and wanted to hold his own bottle, we bought the Pura Kiki Stainless Steel Bottle. These are the bottles that we still use today and he loves them!
The next struggle came when it was time to choose a formula. I started to supplement Gavin's feeding since early on. He was only a few days old and already drinking Enfamil. I knew before I gave birth to him that I did not want to give my child commercial grade formula. My plan was to breastfeed and when I didn't succeed, I was left at the last minute to do tons of research to find something that I felt good about feeding my child.
Now, to be honest, I fed both my daughter and my oldest son formula without thinking anything of it. As I got older and I learned more, I wanted a better option.
Gavin was not like my other children. He dreaded sleep, yet he wasn't (that I know of) a colicky baby but he was crying as if he was in pain often. I did then what most mothers would do and hit google to find out why. I thought that he fit the description of possibly being lactose intolerant. Although he did not have diarrhea, he did seem to have gas, was very irritable, and was developing little red spots all over his face. So we switched to Baby's Only Lactose Relief organic formula and he was doing well on it for about two weeks and then got constipated, really constipated, and the rashes that he had got dry and scab-like. At the pediatrician's recommendation we switched formula brands again to see if this would solve the problem with no luck. I was at my wit's end because I knew I had to switch formula again and this time the only other formula that the doctors were recommending was soy based and I refuse to give my baby boy soy.
So I went on a quest to find a solution when I came across this post and it changed my baby. The more research I did about homemade goat milk formula the more I started to think that this was the best option for us. I purchased Mt. Capra Goat Milk powder along with all the other ingredients. See recipe here. And I started making daily batches.
Was I scared? Yes! I was. I was scared that I wasn't following my pediatrician's advice; I was scared because this was not the norm. But guess what? Gavin thrived on it. His constipation went away, his faced cleared up, and he was a much happier baby. I still don't know what in the cow milk was causing him problems back them as his formula recipe included lactose, and now at 16 months he drinks full fat organic cow milk, but I now know that I made the right choice for him then. It was a hassle making formula daily, which meant warming up the formula under hot water before every feeding, but I would do it all over in a heartbeat.
What do I recommend? Do your research, educate yourself, seek professional advice, and then make the right decision for you.
I would love to hear about your unconventional ways to childcare. Send me an email at may@thecrunchynest.com.